Wallets linked to now-bankrupt Alameda Research became active again on Feb. 7, transferring out millions worth of FTX exchange's native token, FTX Token (FTT). The Alameda wallet activity post FTX bankruptcy filing has been a big concern for the crypto community, with many questioning the merits of the law enforcement agencies and how these wallets are being accessed.
The Alameda address 'brokenfish.eth' transferred nearly $2 million worth of FTT tokens from BentoBox smart contract on Sushiswap. The smart contract in question serves as the central vault for the whole Sushi ecosystem. Former FTX CEO Sam Bankman-Fried has a history with Sushiswap that dates back to 2020 when he took over the protocol from former top developer Chef Nomi.
Alameda Research 4 wallet bought more than 1 million FTT (roughly worth $2.3 millio) in the range of $1.86 – $1.87. In addition to transferring 35,000 FTT to Abracadabra farm yield, they have not seen them move the fund out of the wallet. The wallet also opened a loan position on Abracadabra, currently mortgaging 73,000 FTT and $31,000.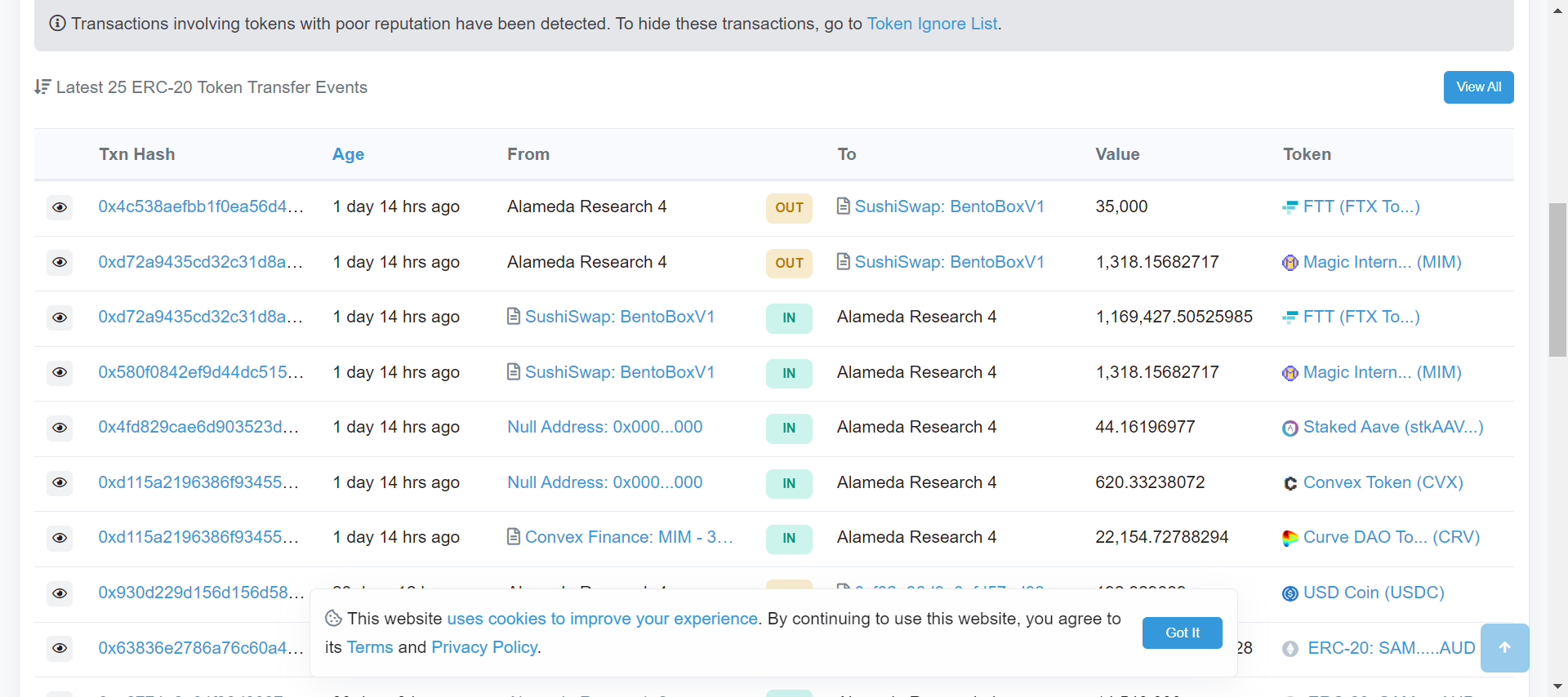 Movement of FTT tokens from Alameda wallets. Source: Etherscan
Many linked the movement of funds to the ongoing bankruptcy proceedings and believed the fund movements were sanctioned by John Ray III, the court-appointed CEO of FTX. Ray III has made no secret of his desire to seize control of the exchange's assets and those of its subsidiaries in order to pay off its debts. On January 17, FTX announced that it had discovered over $5.5 billion in liquid assets throughout its investigations, with more than $3 billion owing to its top 50 debtors.
Related: Hodlnaut works with potential buyers to sell firm and FTX claims: Report
This was not the first instance in February when Alameda-linked wallets saw the movement of funds, first on Feb. 2, Blockchain security firm PeckShield alerted that "Alameda Consolidation" received $13 million worth of crypto assets from three different wallets.
#PeckShieldAlert ~$13M worth of cryptos have been transferred to Alameda consolidation-labeled address, including ~6M $USDT & 1,545 $ETH ($2.5M) from Bitfinex, ~4.6M $USDC from 0x7889
Wondering why Bitfinex transferred ~$8.5M worth of cryptos to Alameda consolidation address pic.twitter.com/YU8RNcrdxs

— PeckShieldAlert (@PeckShieldAlert) February 2, 2023
The first is owned by the world's largest cryptocurrency exchange, Bitfinex. It sent approximately 6 million USDT and 1,545 ether (ETH), totalling approximately $8.5 million. The other unidentified individuals transferred approximately $6 million in USDC to the Alameda Consolidation address.